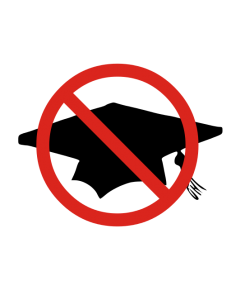 Last year, my friend Dario's 20 Something Magazine published a great article titled "How to Treat Every Day of Your Life As a Master's Degree." Among other tips, it stressed the importance of lifelong, self-directed learning. Author Danny Rubin wrote, "You are now the student, TA, professor and dean of your lifelong master's program. If you drop out, you're only letting yourself down."
I think of that article from time to time, because although I do have a master's degree (in creative nonfiction writing), I have seen it as just the beginning of my education. I've written all my life, but I'm a relative latecomer (in my mid-30s) to the genre, and I need to catch up.
I finished grad school in December 2011 and a few months later had my first child. For a while, my writing and education were on hold as I adjusted to parenthood. But now that things are a bit calmer (a bit), I've been picking both back up.
Here are some of the key ways I've continued my education:
The Longform podcast. This is by far the best resource I've found post-grad school to continue my education in nonfiction writing/longform journalism. It's like getting to buy my writing heroes cups of coffee and ask them questions about their writing process, their career path, the backstory on my favorite pieces, and so forth. It's my one can't-miss show (by the way, Stitcher has revolutionized the way I listen to podcasts).
My personal favorite episodes include Susan Orlean, Gay Talese, and Gary Smith. I also plan to work my way through all the back episodes. Chances are your personal longform idols have appeared on the show as well.
A reading list. It's an oft-cited truism that the best way to learn to write is to read. These days I'm making a real effort to read the types of pieces and books that I want to write–for instance, lots of personal essay and memoir. Recently, I polled people on both my grad school Facebook group and my personal page for their recommendations of the must-read creative nonfiction books. I want to both be well read and to study craft.
I created an Evernote checklist for myself based on the recommendations I haven't yet read, and I will slowly work my way through it. I don't have a lot of money to spend on books, so I'm frequenting the library, and its online site for ebooks.
Once resistant, I'm now a convert to this technology. I'm finding that ebooks are a great way to take advantage of small bits of unused time (my Kindle Fire syncs with the Kindle app on my phone). And I don't have to find time in my busy schedule to make two trips to the library. But since the library's selection of ebooks is still fairly limited, I'm also getting paper books, requesting and patiently waiting my turn for the popular ones.
Events and networking. Now that my daughter is a little bit older, I'm better able to get out and about. I'm making an effort to attend literary events through my grad school and elsewhere and to get together with writer friends. These are great ways to not only stay motivated but also learn about places to pitch, get advice on pieces, hear about resources, and so forth. I'm also a member of several online writing groups that provide some of the same benefits.
In-person writing group. My group, started by some grad school friends, is trying to meet more regularly these days although we're all very busy. We no longer critique pieces at our meetings (although we sometimes do via email), but we meet to provide support, motivation, and advice to each other. These former students have become some of my closest friends, and I am always thrilled to spend time with them and get inspired by their talent and hard work. I leave our meetings feeling energized and excited to keep on pushing with my writing career.
These other methods of educating myself I need to explore more:
Why's this so good? In this project of the Nieman Foundation for Journalism at Harvard, writers break down stories by other writers and discuss why they work so well. I started reading these when they first started and then lost track of them. I need to catch up.
Various writing- and creativity-related blogs. I have a bunch of these blogs in my Feedly (RIP Google Reader…), but since the advent of Twitter, I haven't been very good about keeping up. Maybe I just need to admit to myself that I've moved on and become a 100% Twitter convert. I could then refollow all these blogs/bloggers that way. I'm still marinating on this.
What about you? What are you doing to continue your education now that you are done school? Let me know in the comments.
Image by Michael Kellen via Wikimedia Commons